ACADEMIC BRAINWASHING THREATENS RULE OF LAW: Leftist Ideologues Dominate Training of Future Lawyers and Journalists, Says New Horowitz Study
Leftwing professors are systematically brainwashing young lawyers and journalists, encouraging them to ply their trade in the fashion of a Hillary Clinton or a Dan Rather instead of a John Adams or a Benjamin Franklin. This is the sad conclusion of a new study by David Horowitz's Center for the Study of Popular Culture (CSPC). The survey confirms what most of us long suspected – that leftist ideologues dominate the faculties of American law schools and journalism schools by an overwhelming margin.
The study found that most law and journalism professors at elite schools identify themselves as Democrats. This finding has special significance in today's polarized environment, in which Democrats have evolved into a full-fledged party of the left in the European mode.
Democratic National Committee chairman Howard Dean recently told NBC's Tim Russert that he sees little substantive difference between a "liberal Democrat" and a "Democratic socialist." In such times as these, registering with the Democratic Party (as opposed to just voting Democrat) likely implies a willful opposition to mainstream American culture, values and tradition.
"[P]arty registration is probably the single best indicator of a subject's disposition on a range of social, political and philosophical issues that are crucial to the fields under scrutiny," write the study's authors, David Horowitz and Joseph Light.
The Survey Results
In all but one of the 18 schools surveyed (including nine law schools and nine journalism schools), the study found that registered Democrats outnumber Republicans by huge margins.
Among law schools, Democrat faculty outnumbers Republican faculty by more than 10 to 1, on average. Among journalism schools, the ratio is about 7 to 1, on average.
Of course, the ratio varied greatly from school to school. Yet, of all departments surveyed, Republicans dominated only one, the University of Kansas journalism school, by 10 to 8. Among law school professors, the ratio of registered Democrats to Republicans varies from 28:1 to 3:1 (at Stanford University and at the University of Pennsylvania respectively). Democrats outnumber Republicans at the University of Southern California journalism school by a factor of 13:1.
Given the role that attorneys play in shaping laws, whether as legislators, judges, prosecutors, presidents, criminal defenders or litigators, and given the equally influential role which journalists play in society, through shaping public opinion, the degree of leftist penetration of law schools and journalism schools uncovered in this study arguably threatens the very fabric of our society. The ideas these leftist professors promote seriously undermine the respect for limited government, property rights and judicial restraint which heretofore have preserved and defined our American way of life.
To download a pdf file of the study, go here: "Representation of Political Perspectives in Law and Journalism Faculties" by David Horowitz and Joseph Light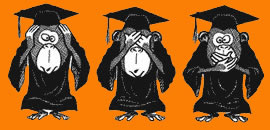 Go here for the timeline of David Horowitz's academic freedom movement.
by Richard Poe
October 11, 2005 01:47 PM ET
Cross-posted from MoonbatCentral.com 10.11.05