DAVID HOROWITZ's BRAIN: Leftist Newspaper In These Times Ranks Horowitz Among Five Most Influential Conservative Thinkers
The times they are a-changin'. Only four years ago, the Chronicle of Higher Education confidently endorsed the view that conservatives could not be intellectuals, nor could intellectuals be conservatives. (1)Â Conservatives just didn't have the brainpower, sneered CHE. Today, leftists not only acknowledge the existence of conservative thinkers, but have even begun ranking them in order of importance. We at CSPC are amused to note that no less a promulgator of leftist orthodoxy than the venerable In These Times newspaper has ranked our own David Horowitz as one of the five most influential "public intellectuals" in the conservative camp.
The Big Five braincons are David Brooks, Dinesh D'Souza, David Horowitz, Ben Stein and David Frum, in that order, according to an April 27 article published by In These Times. (2)
Writers Jessica Clark and Tracy Van Slyke charge that "the conservative media machine" is flooding the Internet with "paid political operatives posing as bloggers", "filling the airwaves" with "hired pundits" and "video news releases," and otherwise conspiring to snuff out "unfettered expression", which conservatives allegedly view "as a danger to the established corporate order."
To illustrate their point, Clark and Van Slyke have produced a diagram of the "Conservative Media Machine" (download pdf file here or here) wherein they list Messrs. Brooks, D'Souza, Horowitz, Stein and Frum as America's preeminent conservative "public intellectuals."
Encouraging as this development may be, Mr. Horowitz still has a long way to go before overtaking M.I.T. linguist and pro-terror apologist Noam Chomsky as the most popular "public intellectual" among globalist elites – an honor Professor Chomsky won in an October 2005 poll conducted by the British Prospect and American Foreign Policy journals (hat tip, Jacob Laksin). (3)Â See the poll results here. (4)
We are confident that Mr. Horowitz will prevail, in the end.
At this point, anything seems possible. Someday soon, our neo-Bolshevist friends may even resign themselves to admitting that George W. Bush is smarter than the celebrated master of "nuance" John Kerry, according to standardized test results. (5)
by Richard Poe
October 27, 2005 01:09 PM ET
Cross-posted from MoonbatCentral.com 10.27.05 01:09 PM ET
---
NOTES
1. Ronald Radosh, "The Myth of the Public Intellectual", FrontPageMagazine.com, May 23, 2001; Richard Poe, "Can Leftists be Intellectuals?", MoonbatCentral.com, March 7, 2005
2. Jessica Clark and Tracy Van Slyke, "Making Connections: Why is the news so bad? What can progressives do to fix it?", In These Times Online, April 27, 2005
3. Jacob Laksin, "Chomsky Voted Top Public Intellectual", MoonbatCentral.com, October 17, 2005
4. "Prospect/FP Top 100 Public Intellectuals Results", Foreign Policy, October 2005
5. Steve Sailer, "Bush's Brain: The candidates' comparative IQ scores don't conform to the cliché", The American Conservative, December 6, 2004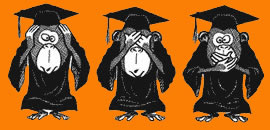 Â
Go here for the timeline of David Horowitz's academic freedom movement.