AND THE SCARIEST HALLOWEEN COSTUME IS… David Horowitz! (for Lefty Profs, Anyway)
David Horowitz continues his metamorphosis into ubiquitous, pop culture icon. Try though they might, lefty intellectuals just can't seem to ignore him. He is always on their minds.
Just yesterday, a blogger calling herself Bitch Ph.D. wrote the following: "Inside Higher Ed has a fun piece about scary Halloween costumes for academics. And, of course, yours truly provided the best and most pithy answer."(1)
And what was her answer? When queried by Inside Higher Ed as to "which costumes might be particularly scary to people at colleges and universities", Bitch Ph.D. quipped, without hesitation, "David Horowitz." (2)
by Richard Poe
November 1, 2005 03:37 PM ET
Cross-posted from MoonbatCentral.com 11.01.05 03.37 PM ET
---
NOTES
1. Bitch Ph.D., "BOO!", bitchphd.blogspot.com, October 31, 2005
2. "Trick or Treat", Inside Higher Ed Online, October 31, 2005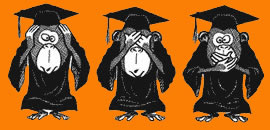 Go here for the timeline of David Horowitz's academic freedom movement.