Richard Poe Interview in Italian Magazine

English translation of NM Magazine Interview
NM-MAGAZINE.IT (in Italian)
See Richard Poe interview online (in Italian)
See magazine pages of this interview (in Italian)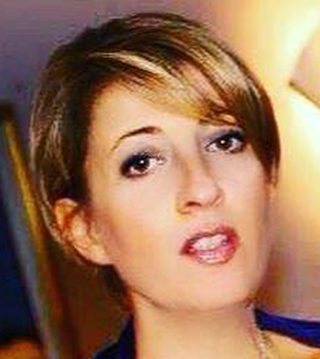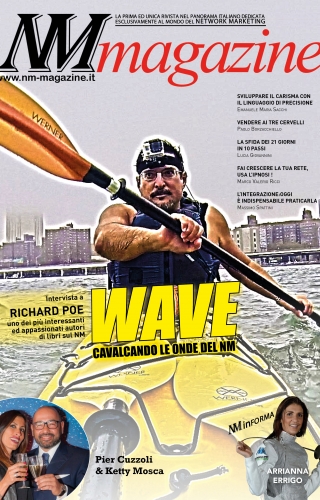 RIDING THE WAVE OF NETWORK MARKETING
An interview with RICHARD POE, one of the most interesting and impassioned authors of network marketing books
by Cristina Cattaneo • translated by Cristina Cattaneo
One day, not long ago, I was listening to an audio on network marketing by Robert G. Allen, one of the leading financial experts in the world, who helped thousands of people to become millionaires. Allen strongly recommended a book called WAVE 3 by a certain Richard Poe, an author little known in Italy.
I followed Allen's advice and searched for Italian editions of this book online. With amazement, I discovered that at least one of the four WAVE books was indeed available in Italian, published by Gribaudi Editore.
Reading WAVE 3 was very meaningful to me. In its pages, I found information, inspiration, useful tips, and some important concepts that were later picked up by other authors.
So I could not resist! I decided to interview the author of this wonderful book. I wrote him an email, short and direct. To my amazement, he replied in just a few hours, humbly declaring his availabilty to give an interview for NM magazine.
I consider WAVE 3 a valuable resource for Italian networkers. Don't wait for the other WAVE books to be translated for our market. My advice is, start with WAVE 3. In the meantime, enjoy the interview with this very interesting author!
See you soon!
Cristina Cattaneo
NM MAG: Who is Richard Poe?
POE: I'm a New York Times-bestselling author. Most of my life, I've worked as a journalist, on magazines, newspapers and Web publications. Of all my books, the biggest sellers have been the WAVE books, a series of inspirational, self-help primers on network marketing.
POE: Faith is the mysterious force that keeps you going, in spite of discouragement. When you have faith, you never quit. You keep on trying, day after day. You never give up.
NM MAG: What got you started writing about NM?
POE: In the late '80s and early '90s, I was a senior editor at SUCCESS magazine. One of my jobs was to write a monthly column on business trends of the future. Network marketing was one of the trends that I spotted.
Rereading my old articles from SUCCESS, I'm pleasantly surprised by how many of my predictions came true. More than 20 years ago, I was writing about things like virtual reality, satellite earth-mapping and private space travel, concepts that are only now starting to hit the market, through the PlayStation VR, Google Earth and SpaceX. I'm pleased to see that many of my predictions about network marketing are also coming true.
NM MAG: What predictions have you made about network marketing that came true?
POE: In May 1990, I wrote a column called, "Network Marketing: The Most Powerful Way to Reach Consumers in the 90s." That was a little risky.
There are many ways to reach consumers, so I was taking a gamble by predicting that MLM would emerge as the most powerful method of all. But my prediction came true in a striking way.
On April 9, 1998, the Dow Jones Industrial Average hit a record 9,000 points. This happened as a direct result of the merger between Citicorp and Travelers Group that day, to form Citigroup. It was the largest corporate merger in history, and the new entity, Citigroup, was the largest financial services company in the world.
Why did they merge? In part, because of network marketing. Travelers Group had an MLM subsidiary called Primerica, and Citicorp wanted to use that sales force to market their financial services.
NM MAG: Your series of WAVE books, such as WAVE 3 and WAVE 4, are considered classics in the field of network marketing. What are these waves all about? What do they mean?
POE: In WAVE 3, I argued that the network marketing industry had gone through three waves of evolution.
Wave 1 was the "underground" phase, when network marketing was a new industry, and the U.S. government had not yet decided if it should be legal. That phase ended in 1979, when the Federal Trade Commission ruled that Amway was a legitimate business, not a pyramid scheme.
Then came Wave 2. Personal computers made it possible to run a network marketing company from your desktop. The number of MLM companies exploded during the 1980s.
However, there was still a problem. In those days, it was very hard to work a network marketing business. Independent distributors had to do all the work of stocking inventory, taking orders, and shipping product, in addition to recruiting, training and motivating a sales force.
For ordinary people just looking for a parttime income, that was too much work.
Wave 3 solved this problem. During the 1990s, the business became highly automated.
Customers could now order products from a toll-free number, and the parent company took care of every detail of the shipping. Recruiting and training your sales force became much easier, with the use of videos, audiotapes, teleconferences and satellite TV conferences for prospecting.
For the first time, network marketing became truly accessible to the masses.
NM MAG: What about WAVE 4? What is that?
POE: Wave 4 is the age of the Internet. In the early days of the World Wide Web, network marketers were the first people to figure out how to make money online.
Today, they are experimenting with new ways to make money through the social media.
NM MAG: The WAVE books came out more than a decade ago, yet they are still popular, all over the world. What is the secret of their lasting popularity?
POE: The WAVE books are filled with inspirational stories about real people. Success stories are timeless. I interviewed top network marketing leaders, learned their success secrets, and told their stories in the WAVE books. The principles of success are the same today as they were thousands of years ago.
NM MAG: Did you find one common feature in all the leaders you interviewed?
POE: They all had faith. In other words, they had persistence. Earl Nightingale wrote, "Persistence is simply another word for faith. If you didn't have faith, you'd never persist."
Faith is the mysterious force that keeps you going, in spite of discouragement.
When you have faith, you never quit. You keep on trying, day after day. You never give up.
This is faith. This is the most important quality that all great network marketing leaders possess.
NM MAG: Can you tell us some anecdotes about major American network marketing leaders whom you interviewed?
POE: Richard Brooke used to pluck chickens on an assembly line for $3.05 per hour. Then he tried network marketing. At first, things went wrong. Richard ended up selling his house, maxing out his credit cards, begging money from relatives, and sleeping on his sister's couch.
His family told him to get a job. But Richard kept going. In his fourth year, his business began to take off. He made his first million before turning 30.
Richard went on to found a multimillion-dollar dental care company called Oxyfresh, and recently launched a new MLM company called Life Matters.
In college, Ken Porter got a summer job selling children's books door to door. This was a traditional sales job, not network marketing. As with many sales jobs, Ken had to buy his own inventory. That summer, he lost $2,000. But then he did something incredible. The next summer, Ken returned to the very same company to do the same work.
Why did he do it? He had seen other salesmen making money in that company, and Ken thought he could do the same. That summer, Ken earned $20,000 in profit. More importantly, he had learned a lesson about perseverance that changed his life. Later, Ken got involved in network marketing. Today he is number 30 on the Business for Home list of the Top 200 Worldwide Earners in MLM.
Kathy Denison was a single mother, cleaning other people's houses for a living, and dependent on food stamps. She joined a network marketing company called Nu Skin and started offering the products to her wealthy cleaning clients. Many laughed. But others listened. Some became customers, and some joined the business. Five months later, Kathy stopped cleaning houses and became a fulltime network marketer. Shortly afterwards, she made her first million.
NM MAG: So many exciting things are happening in network marketing today, with new products coming on the market — even virtual ones! — new distribution systems, marketing plans such as the dual line, and new communication methods such as the Internet and social media which are changing all the rules. More than a decade since your last WAVE book, how do you see NM today and the new generation of NM leaders?
POE: The industry is always changing, but not as much as it may seem. Some of the things you mentioned are not really new. For example, some companies were already using the dual line compensation plan — also called the binary plan — as far back as 1994, when WAVE 3 came out. The Internet was already an important resource for network marketers as early as 1996, when I wrote The WAVE 3 Way.
What is really different today is the acceptance of network marketing as a legitimate way of doing business. The industry is no longer controversial. Individual companies are sometimes controversial, but the industry is not.
The turning point came in 1998. That year, China banned network marketing and all other forms of direct selling. Major network marketing companies such as Amway, Avon and Mary Kay Cosmetics were suddenly cut off from their Chinese downlines. Fortunately, the U.S. government intervened. Under pressure from the Clinton administration, China lifted the ban.
This was a huge turnaround. Less than 20 years earlier, the U.S. government had tried to put Amway out of business. Now the government was defending Amway's right to do business in China, and defending the entire network marketing industry worldwide.
NM MAG: If you had a chance to write these books over again, would you write anything differently?

POE: The WAVE books have stood the test of time. I don't think I'd change a word. Everything happened more or less as I predicted.
NM MAG: As this interview is published, the WAVE books are coming out as eBooks for the first time (in English). Have you ever thought of writing another book on NM?

POE: Of course! There will always be room for another WAVE book.
NM MAG: It seems strange that only WAVE 3 has been translated into Italian, considering that the Italian market is one of the most coveted for NM companies. Can we hope to see others translated into our language?
POE: Yes, I think that will happen soon.
POE: Never fear. Never lose heart. Never give up. Persistence is everything.
NM MAG: In an Italy devastated by the economic crisis, NM offers opportunities to those who felt they had none. Do you think that NM offers a real possibility that the American Dream is still alive, or is it just a job like any other?
POE: Most people are not entrepreneurs, and so their best option is a steady job with a good pension. Unfortunately, those kinds of jobs are disappearing. Technology is taking over more of the work that human beings used to do.
Globalization is sending many jobs to developing countries, where labor costs are cheaper. These are long-term trends. In WAVE 4, I called this phenomenon the Death of Jobs.
So what can we do about it? If we can't find good, steady jobs with pensions, how can we live? We have to go into business for ourselves. This is difficult for most people. It takes a lot of hard work and hard thinking to invent a new business from scratch.
But there are solutions. Buying a franchise is one. Franchising allows you to buy into an existing business, with a strong brand and a proven success formula. You don't have to reinvent the wheel. Unfortunately, buying a franchise is expensive. It can cost hundreds of thousands or even millions of dollars.
Network marketing offers many of the benefits of franchising, but without the huge, upfront costs. For most people, network marketing can provide a good parttime income. For others, it offers much more.
If you have the drive, ambition and tireless persistence to work hard and build a large, active downline, network marketing offers a chance to achieve great wealth.
NM MAG: Do you want to say something to the Italian networkers?
POE: Never fear. Never lose heart. Never give up. Persistence is everything.
Richard Poe is a New York Times-bestselling author and award-winning journalist, based in New York City. He has written on science, history, business and politics. His books are published in 22 languages.

NM-MAGAZINE.IT (in Italian)
See Richard Poe interview online (in Italian)
See magazine pages of this interview (in Italian)