FIRST-EVER PHOTOS OF LIVE GIANT SQUID: While Major Media Snooze, Scientists Find Calamari Bonanza at 500 Fathoms, in Waters off Japan
Last Wednesday, while major media tried their best to focus our attention on the alleged shortcomings of ex-FEMA head Michael Brown, one of the greatest scientific discoveries in human history was virtually ignored. Japanese scientists announced that they had managed to photograph a full-grown giant squid, swimming alive in the wild, for the first time ever, according to the Associated Press.
Until now, scientists have seen only occasional dead or dying specimens of the monstrous cephalopod, when they wash ashore or turn up in fishing nets from time to time.
In its deep-sea habitat, Architeuthis Dux is believed to reach up to 60 feet in length, making it the largest invertebrate on earth.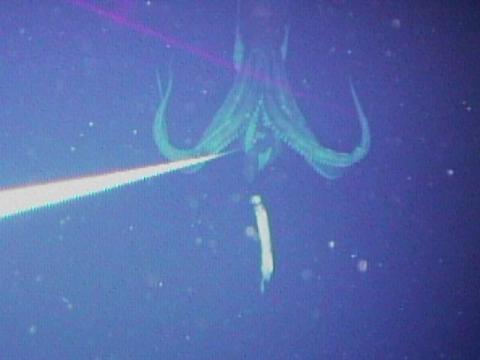 ---
Dr. Tsunemi Kubodera of Tokyo's National Science Museum spent three years searching the waters off Japan for the elusive creature, dangling baited lines equipped with remote cameras deep into the pitch-dark regions where Architeuthis makes its lair.  Then, at 9:15 am on the morning of September 20, 2004, Kubodera got his quarry.
At a depth of about 500 fathoms, or 3,000 feet, off the island of Chichijima, about 600 miles southeast of Tokyo, a 25-foot Architeuthis siezed the bait and got caught on Kubodera's line.  The beast struggled to get free for over four hours while a camera equipped with a strobe light shot photos every 30 seconds.
The monster finally broke loose, leaving behind a tentacle nearly 20 feet long which the researchers hauled aboard their vessel.  The tentacle, still alive when Kubodera grabbed it, began sucking on his hands.
Seafood connoisseurs will be enthused to learn that the tentacle is the largest cut of fresh calamari ever drawn from the sea.
Kubodera waited a year before reporting his historic feat. His account, which he co-wrote with Kyoichi Mori of the Ogasawara Whale-Watching Association, appeared this Wednesday, September 28, in the British journal, the Proceedings of the Royal Society B: Biological Sciences.
"That's getting footage of a real sea monster," said deep-sea biologist Randy Kochevar of the Monterey Bay Aquarium in California. "Nobody has been able to observe a large giant squid where it lives. There are people who said it would never be done. It's really an incredible accomplishment."
by Richard Poe
October 1, 2005 04:26 PM ET
Cross-posted from MoonbatCentral.com 10.01.05