NEW FEATURE: Timeline of a Mass Movement — David Horowitz's Academic Freedom Campaign
Since 2002, David Horowitz has waged a national campaign to shield students from coercive political indoctrination in the classroom.
The linchpin of his program is the Academic Bill of Rights, a set of principles which Horowitz urges colleges and universities to adopt. In the case of state-run schools which refuse to honor these standards, Horowitz lobbies to enforce academic freedom through state legislation.
Through his Center for the Study of Popular Culture (CSPC), Horowitz has launched two national groups to carry on the fight for propaganda-free classrooms. Students for Academic Freedom focuses on college and university campuses, while Parents and Students for Academic Freedom seeks to protect kids in K-12 schools from political harassment.
With interest growing quickly from educators, journalists, legislators, parents and students, the need for authoritative information on the academic freedom movement has never been greater. We therefore present this timeline of the campaign, with major milestones noted and hyperlinked. The timeline will be updated regularly to keep our readers abreast of breaking news.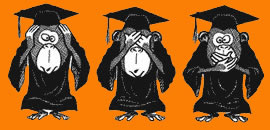 Go here for the timeline of David Horowitz's academic freedom movement.
by Richard Poe
October 25, 2005 07:28 PM ET
Cross-posted from MoonbatCentral.com 10.25.05