SPEECH: Long Live Giuliani Square!


Newly edited version, posted November 6, 2009
No More Times Square!
Long Live Giuliani Square!
Full Transcript of Richard Poe Speech at New York Times Building
Demonstration Against the New York Times
229 West 43rd Street, Manhattan
July 10, 2006
Rabbi Aryeh Spero: …one of the contributors and associate editors of NewsMax Magazine, which is online, one of the fearless magazines willing to take on The New York Times. His name is Richard Poe.
[applause]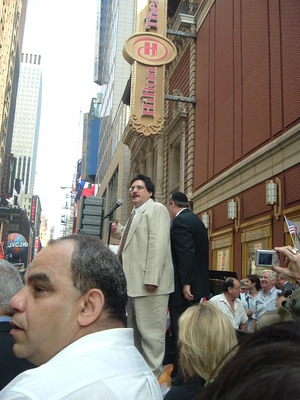 Richard Poe: Thank you. Thank you.
Welcome, friends, to the Times Square district of New York City. This is called the Times Square district on the map. The reason for that is because of its proximity to Times Square.
Now many of us forget that Times Square is actually named after this New York Times. And let me tell you how that happened.
In the year 1904, one Adolph Ochs, then publisher of The New York Times, had a meeting with the mayor of New York, in the course of which he persuaded the mayor to name Longacre Square after his newspaper, and from then onward it has been named Times Square. History does not record how the publisher of this newspaper managed to get the most important commercial hub and the most celebrated public space of our city named after his newspaper, but I don't think I would be going too far if I were to suspect that some financial remuneration was involved.
This was in 1904. It was one hundred and two years ago, and, ever after, the main square of our city has borne the name of this corporation, the New York Times Company, and I ask my fellow New Yorkers, why?
Before it was named Times Square, it was called Longacre Square. Now I do not propose calling it Longacre Square again. I don't even know why they called it that, but may I humbly suggest Giuliani Square?
[crowd cheers]
Giuliani Square!
For one hundred years, this newspaper has stood astride our city like a colossus. For one hundred years, our titans of Wall Street, our politicians, our power brokers, have bowed low before this temple of Babylonian decadence.
Let that time end now, today. No more Times Square! Long live Giuliani Square!
[crowd begins chanting: "Giuliani Square! Giuliani Square!"]
– by Richard Poe
RAW VIDEO CLIPS
__________________________________________________
NOTES

1. Pamela Geller, "It's a CHOI to Protest the New York Crimes", AtlasShrugs.com, July 10, 2006

2. Pam M., "Memo to the NYT: We're Not Buying It", Blogmeister USA, July 10, 2006