Horowitz Signs Books at Restoration Weekend
Pressing business kept your faithful correspondent from attending David Horowitz's Restoration Weekend last month. Fortunately, Mr. Horowitz himself — my co-author — was on hand to sign copies of our book The Shadow Party. (1)
In his keynote speech, Mr. Horowitz scolded conservative media for failing to support his Academic Freedom Campaign, a national movement aimed at fostering "intellectual diversity" — especially political diversity — on campus.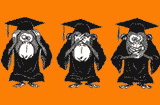 Go here for the timeline of David Horowitz's academic freedom movement.
"We have not had even one story about this in the Weekly Standard or National Review. This is how outside the box this movement is, and this is also our biggest problem. We've even been attacked by the Wall Street Journal," (2) complained Horowitz in his remarks on Friday morning, November 17.(3)
Sponsored by the David Horowitz Freedom Center, this year's Restoration Weekend ran from November 16-19 at The Breakers Resort in Palm Beach, Florida. Go here for a full schedule of events.
by Richard Poe
December 6, 2006 01:50 PM ET
Cross-posted from ShadowParty.com 12.06.06




---
NOTES
1. Andrea Shea King and Mark Vance, "Scene at the Breakers", The Radio Patriots (radiopatriot.blogspot.com), 20 November 2006
2. "Academic Rights and Wrongs", The Wall Street Journal, 7 October 2005
3. David Horowitz, "Restoration Weekend 2006: Storming the Universities", FrontPageMagazine.com, 20 November 2006