My New Job with TheVanguard.org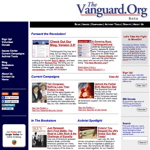 Despite my best efforts to keep mum, news of my hiring by TheVanguard.org has been leaking like a sieve for over two months — most irremediably in a January 27 column by Bob Novak. (1) On the principle of "better late than never", an official announcement seems in order.
Founder and Chairman of TheVanguard.org Rod Martin appointed me Editorial Director of his Web site, effective February 1, 2007. Rod wants TheVanguard.org to do for the conservative movement what MoveOn.org did for the radical left.(2) I am grateful for the confidence Rod has placed in me, as well as sobered by the gravity of this responsibility.
Currently we have rendered TheVanguard.org semi-dormant, in preparation for a major redesign and relaunch. However, our blog will remain fully functional throughout this pre-launch period, and our writers will continue publishing their columns. Needless to say, anyone who wishes to donate, volunteer or register as a member of TheVanguard.org should feel free to do so, at any time, pre- or post-launch.
It has been our lot, gentle readers, to be born into an era of degeneracy and corruption. Let us meet our fate bravely, as our forefathers did in generations past.
To those readers who still love their country, we invite you, one and all, to join us in our struggle. Help us build a movement of heroes and patriots. Help us regain our lost freedom. May God Almighty bless and keep our Republic, and make us worthy of the victory we seek.
---
NOTES
1. Robert D. Novak, "Dour McCain", Creators Syndicate, 27 January 2007; Bill Berkowitz, "Spooked by MoveOn.org, Conservative Movement Seeks to Emulate Liberal Powerhouse", MediaTransparency.org, 5 February 2007
2. Stephanie Dube, "The Next MoveOn.org", Human Events, 18 January 2007; Jerome R. Corsi, "TheVanguard.org Plans Conservative Challenge to MoveOn.org", Human Events, 23 January 2007