HILLARYGATE EXCLUSIVE: Smoking-Gun Video Implicates Hillary in Campaign Finance Fraud

Reprinted from TheVanguard.org 04.25.07 02:40 pm ET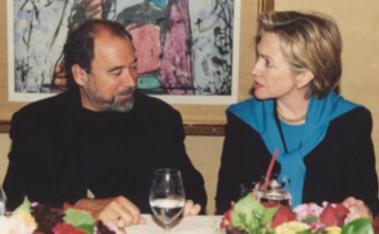 Hillary breaks bread with Peter Paul at a June 8, 2000 fundraiser. hillcap.org
TheVanguard.org has obtained video footage proving that Hillary raised dirty money in her 2000 Senate race and lied to authorities to conceal it. Her words on the newly-released video prove Hillary's complicity in a criminal conspiracy to launder campaign funds and defraud the Federal Elections Commission. In theory, at least, Senator Clinton could face several consecutive five-year sentences in federal prison for her actions in this single four-minute video.
THE "SMOKING GUN" VIDEO: Above is an exclusive, 30-second cut from the original 4-minute video of Hillary's illegal meeting with Hollywood fundraisers. Courtesy Hillcap.org.
---
The video depicts a July 17, 2000 meeting in Peter Franklin Paul's office at the LA headquarters of Stan Lee Media (SLM). At the meeting, Mr. Paul and his associates plan a star-studded Hollywood gala to raise money for Hillary Clinton's 2000 Senate run. First Lady Hillary Clinton oversees and coordinates the meeting via speakerphone.
The event being planned in this video eventually took place on August 12, 2000. Billed as, "The Hollywood Farewell Gala For President William Jefferson Clinton", it netted some $1.5 million in "hard money" for Hillary Clinton's Senate campaign.
To the casual observer, it all sounds quite innocent. However, the fundraiser was illegal.
First and foremost, Peter Paul agreed to fund the gala, and eventually paid some $2 million out of his own pocket to produce it. This was against the law. Since the event was a fundraiser for Hillary Clinton's Senate run, Mr. Paul's $2 million effectively constituted a contribution to Hillary's campaign — one that far exceeded the legal $2,000 cap on such contributions.
Beyond Peter Paul's contribution, every celebrity who performed at the gala, in effect, made an "in-kind" donation — that is, a donation in the form of goods and services — equivalent to the cash value of that celebrity's performance.
In the video, Hillary indicates that she played a personal role in "selling" Cher on the idea of performing at the gala. By so doing, she personally helped solicit a direct contribution to her campaign, which far exceeded in value the legal $2,000 cap.
Mr. Paul told TheVanguard.org, "Alana was paid $25,000 to secure Cher and Diana Ross. I paid her to get them, then Tonken helped sell them after Alana worked on them, then Hillary worked on them to close them."
Finally, the video makes clear that Hillary personally helped coordinate the fundraiser with her campaign, a job in which Hillary was assisted by her campaign operative Kelly Craighead. This constitutes yet another violation of federal law.
Present at the meeting are SLM partners Stan Lee and Peter Franklin Paul (who speaks, but remains off camera, because he is shooting the video), Aaron Tonken and Alana Stewart.
---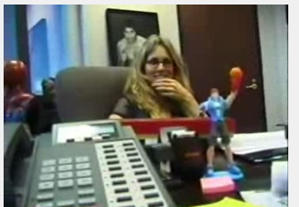 Alana Stewart (former wife of rock star Rod Stewart and actor George Hamilton) listens while Hillary says: "I got a full report from Kelly [Craighead] today when she got back and told me everything that you're doing, and it just sounds like it's going to be a great event." Courtesy Hillcap.org.
---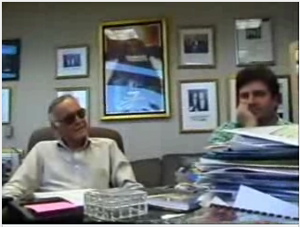 Democratic fundraiser and event organizer Aaron Tonken (on left) listens while Hillary tells him: "Aaron, I'm so grateful, because I know how hard you worked on it, and it's your constant effort and your outreach to all of these people that really gets them excited about doing this, because I know I talked with Cher and she was just great, just said she really was excited, and I hadn't talked to her, so you had done, really done a good job selling it to her." Courtesy Hillcap.org.
---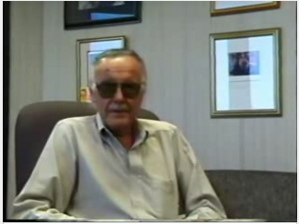 Spiderman creator Stan Lee listens while Hillary tells Aaron Tonken: "Well, you just let me know if there's anything that I need to do and I know you and Kelly [Craighead] talk all the time, so she'll be the person to convey whatever I need, but I just wanted to call and personally thank all of you." Courtesy Hillcap.org.
---
---
Reprinted from TheVanguard.org 04.25.07 02:40 pm ET
---
---
NOTES
Art Moore, "`Smoking Gun' Tape of Hillary Previewed: Excerpt of Conversation Now Available, Allegedly Shows Commission of Crime", WorldNetDaily.com, 25 April 2007 5:00 pm Eastern Time
Art Moore, "'Smoking Gun' Tape Indicts Hillary: Shows Her 'Committing Felony' Punishable by 5 Years in Prison", WorldNetDaily.com, 21 April 2007 1:00 am Eastern Time (via FreeRepublic)
Fred Lucas, "New Tape Raises Questions About What Senator Clinton Knew of Campaign Violations", Cybercast News Service (CNSNews.com), 20 April 2007
---
Reprinted from TheVanguard.org 04.25.07 02:40 pm ET