Oklahoma Travelogue
RELENTLESS interruptions have prevented me so far from writing the promised travelogue of my trip to Oklahoma. I'd better write it now, before the next crisis erupts.
As mentioned in my previous post, Marie and I just completed an 11-day road trip to Oklahoma City, with an overnight stop in Cincinnati to visit my mother's grave.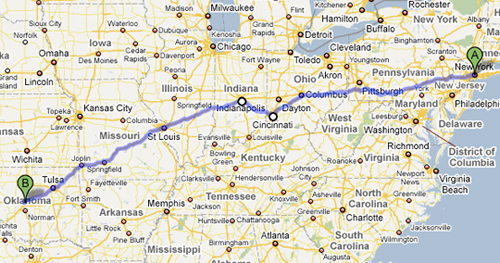 Our journey covered nearly 3,000 miles; 1,485 miles on the way out (643 miles from New York City to Cincinnati; 842 miles from Cincinnati to Oklahoma City), and a return trip of 1,447 miles (we skipped Cincinnati on the way back). Total drive time: roughly 46 hours.
We stayed six days in Oklahoma City as guests of an old friend, David Yeagley. Eight years ago, I recruited Dr. Yeagley as a columnist for FrontPageMagazine.com, where I served as editor at the time. Later, when I became managing editor of MoonbatCentral.com, David was one of my bloggers. His own BadEagle.com has grown into one of the hottest blogs on the Internet, in recent years.
During our visit last month, Dr. Yeagley hosted a marvelous Thanksgiving feast for us. An enrolled member of the Comanche tribe, he takes special pride in celebrating a holiday which commemorates American Indian hospitality, as extended so famously to the settlers of Plymouth colony in 1621.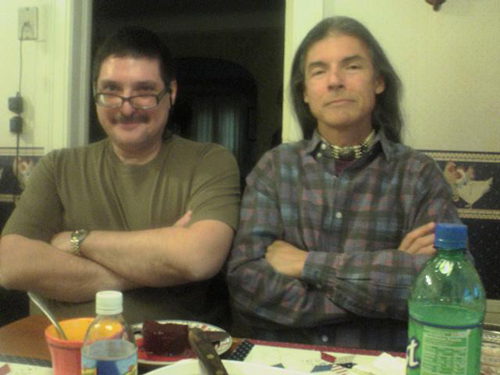 Above, your faithful correspondent (left) enjoys the hospitality of Comanche author, blogger and columnist David Yeagley (right) in his Oklahoma City home, this past Thanksgiving.
Long-time readers of this blog need no introduction to David Yeagley. My writings have chronicled his artistic, academic and ideological crusades for years. Newcomers to this blog unfamiliar with Dr. Yeagley can glean some basic facts about him from the articles and blog posts linked below.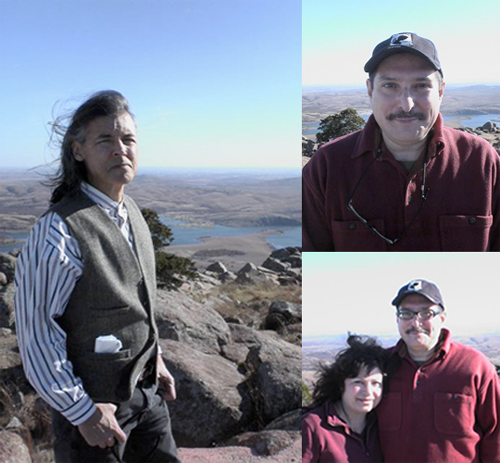 Above left: David Yeagley in his ancestral domain, high atop Mount Scott in the sacred Wichita Mountains of Oklahoma; Top and bottom right: Standing 2,464 feet above sea level, the Poes drink deep of the Mount Scott mojo.
Prompting our trip were concerns about David's health. He nearly died in August from a sudden, unexplained attack of acute autolytic anemia. His immune system went haywire, attacking and destroying not only his own red blood cells, but any blood the doctors tried to transfuse into him.
By Saturday, August 16, David's hemoglobin count had plummeted to 4 grams per deciliter; one point from certain death. Hemoglobin — the reddish pigment which carries oxygen in the blood — normally ranges between 12 and 15 in middle-aged men.
The crisis passed as suddenly and mysteriously as it began. A final, last-ditch transfusion unexpectedly worked. Steroids slowly began restoring David's hemoglobin. He wrote about the experience on his BadEagle.com blog.




My Hungarian brother-in-law, who grew up under Communism, says that you should always take lots of photos when you have a feast. Then, when famine strikes in later years, you can share the photos with friends and relatives, and exclaim, "Look, we had food!" Marie cooked a delicious turkey. Our gracious host carved the bird. It was a feast to remember.
When I called Dr. Yeagley at the hospital on August 19, he was amazingly chipper. I promised we would come visit him, and we did. By the time we arrived at his doorstep, three months later, David had recovered almost completely, by the grace of God.
We had never been to Oklahoma before, so Dr. Yeagley showed us all the sights.
Of course, we visited Comanche land down in Lawton, where we were honored to meet the tribal chairman Wallace Coffey.
David also took us to the National Cowboy and Western Heritage Museum; the Oklahoma History Center and the Wichita Mountains Wildlife Refuge where, for the first time in my life, I saw a wild American bison roaming free on the range. Sorry, no photos of the buffalo. I was driving at the time.
We are pleased to report that we found Dr. Yeagley in good health and good spirits. God willing, he will be with us for many years to come. We need him now more than ever.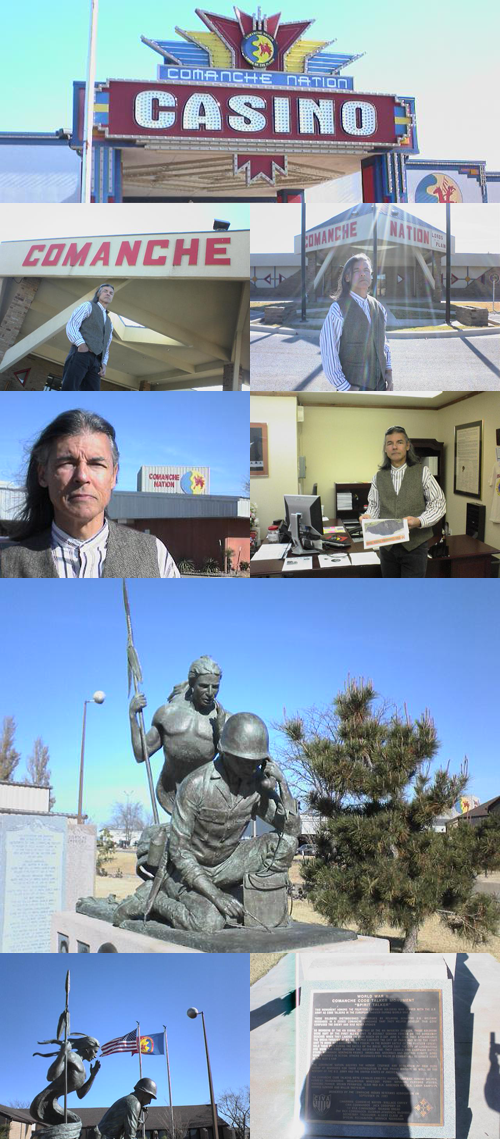 The second day of our visit, Dr. Yeagley took us down to Comanche land in Lawton, Oklahoma. TOP ROW: Dr. Yeagley refused to pose in front of the Comanche Nation Casino; he frowns on gambling. SECOND ROW: He did, however, agree to pose in front of the Comanche business center. THIRD ROW: Here we see Dr. Yeagley outside the tribal office (left), and inside the tribal office (right). FOURTH ROW: At the monument to the Comanche Code Talkers, Dr. Yeagley once again refused to be photographed, this time because he said he was unworthy to appear with the monument, never having served in the armed forces. FIFTH ROW: I did, however, manage to snap a photo of Dr. Yeagley's shadow falling across the Code Talker plaque (right).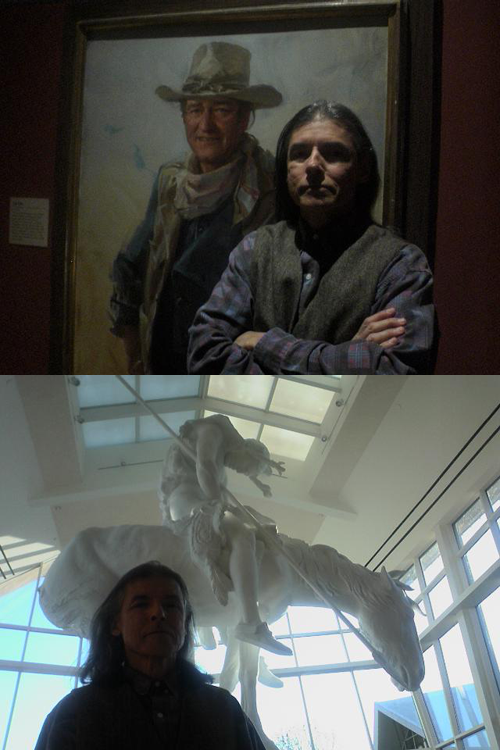 I snapped these two photos of Dr. Yeagley at the National Cowboy and Western Heritage Museum in Oklahoma City.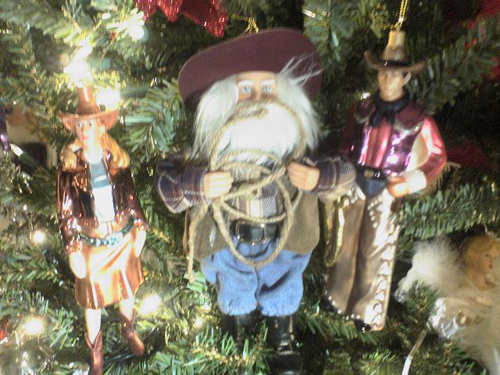 Marie bought some ornaments at the Cowboy Museum, shown here on our Christmas tree; a Cowboy Santa, with cowgirl and cowboy.
UPDATE 12.12.08: See David Yeagley's posts, "Visitors from the East, Thanksgiving Treat" and "Poe.com Blog, The Oklahoma Journey".
UPDATE 12.14.08: "My Thanksgiving Guests from New York", by David Yeagley.