Merry Christmas
Returning from Christmas Vigil last night, I couldn't resist taking a few shots of our house, bedecked with holiday lights by Marie. Later I will post more photos.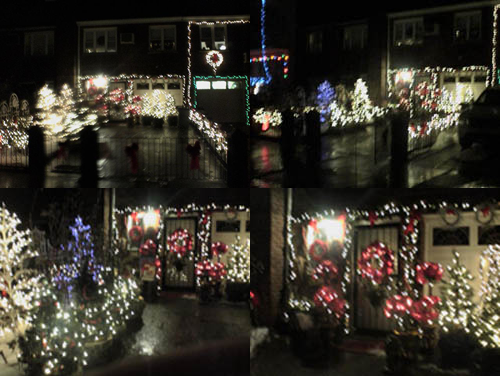 Christmas Eve at the Poe house: Marie's light display transfigures our little neighborhood of brick row houses. In the top left photo, our house appears on the left, with our neighbor's house (the one with green lights around the garage) adjoining it on the right.
---
UPDATE: Monday, December 29, 2008
Christmas decoration must be the most selfless of art forms. Only your neighbors see the lights outside. Only your guests and family see the glories within. Your work shines for a few days, then vanishes into boxes and closets for the rest of the year.
My wife Marie spends weeks decorating our house for Christmas. This year, I decided to preserve a digital record of her work. The photos below were all taken Christmas Day, with my trusty LG VX8000 cell phone camera.

Whatever the season, the first thing visitors see upon entering our front door is a crucifix, flanked by a Russian icon of St. George the Dragonslayer. Christmas brings additional embellishments to our front hall, including a snow-white Christmas tree (one of several trees we erect for the holidays).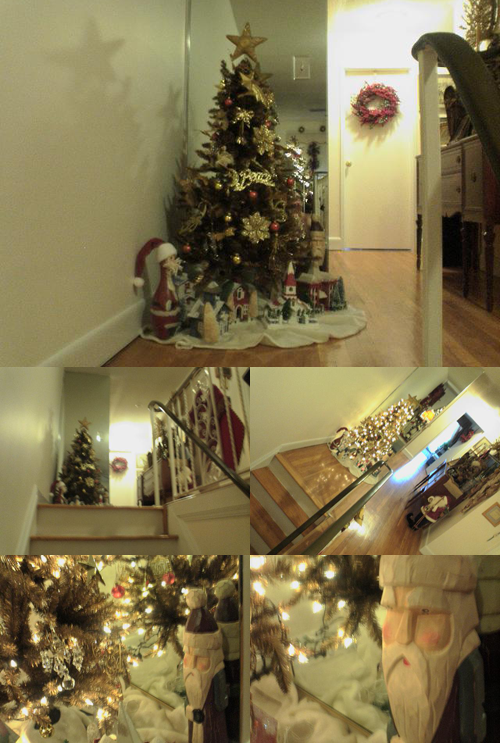 Upstairs we find another Christmas tree, with a hand-carved Pennsylvania Dutch Santa standing sentinel beside it. I call him our Nordic Santa. See bottom row for close-ups of the Nordic Santa.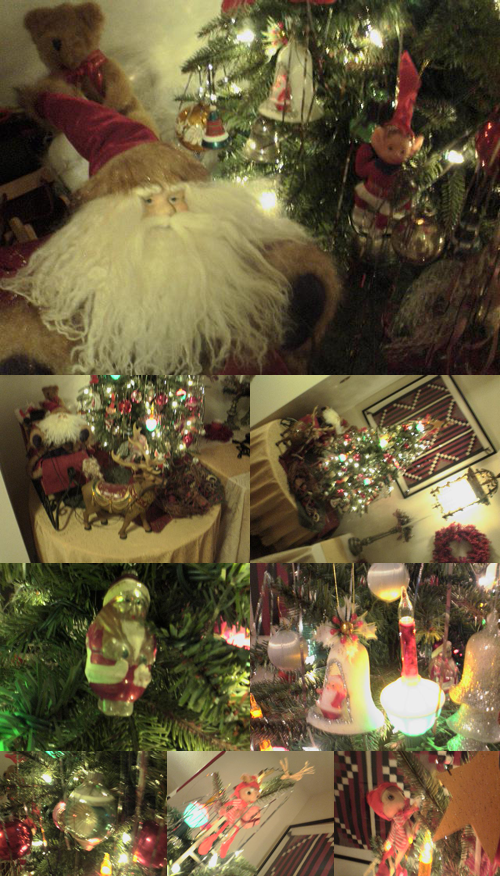 In our livingroom sits the "Tree of Christmas Past", as Marie calls it. Here we hang delicate antiques, family heirlooms and retro-style ornaments. THIRD ROW: The little glass Santa (left) once belonged to my aunt Amparo, who was born in Zacatecas, Mexico in 1907 and died in 2003, just seven days shy of her 96th birthday. The photo on the right shows a recent remake of a 1950s-style bubble light. FOURTH ROW: The two hard-working elves perched on ladders atop the tree are the first Christmas ornaments Marie ever bought.

Marie collects exotic Santas from around the world. Her latest acquisition is the Cowboy Santa at the bottom, purchased at the National Cowboy Museum during our recent trip to Oklahoma City.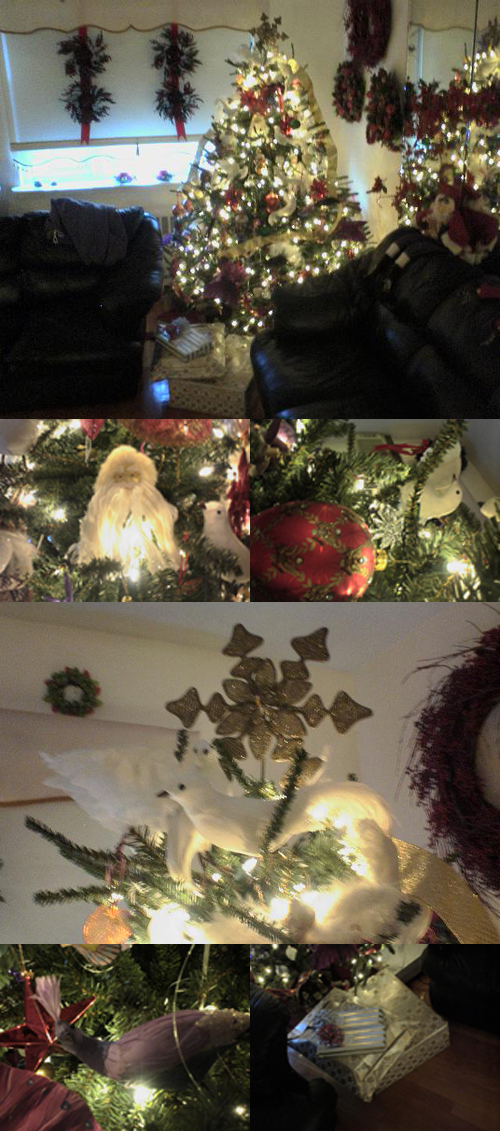 Our grand Christmas tree stands in the east corner of our livingroom.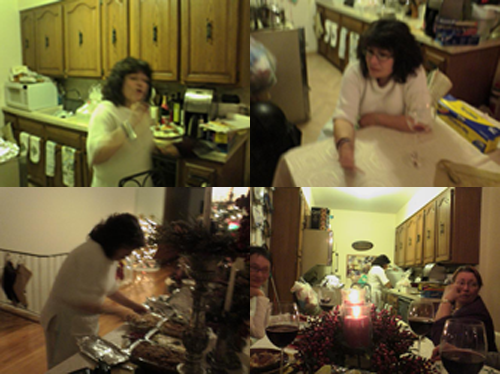 On Christmas Day, Marie cooked up a storm.

Thanks to Marie's cooking — and to goodly quantities of blood-red Sovetskoye Igristoye (Russian Champagne) — dinner was a great success.