BadEagle.com Redesign Draws Record Traffic
MY REDESIGN of BadEagle.com still needs a few nips and tucks, but the latest Web stats seem to indicate that we're on the right track. The Web site of Comanche blogger David Yeagley has experienced record traffic since we launched the new version on January 14, 2009.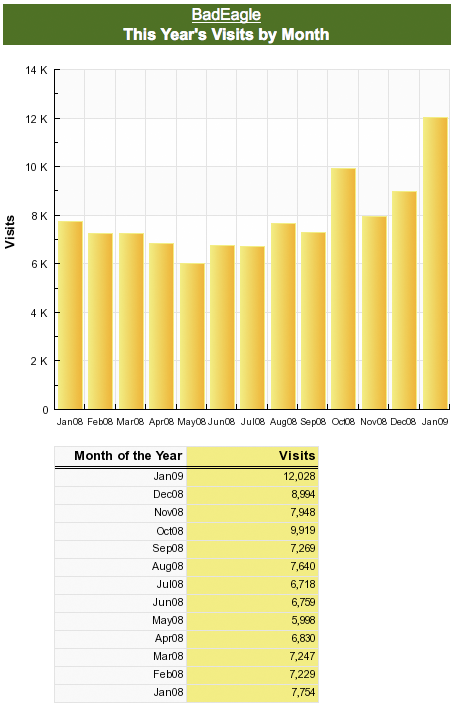 January 2009 broke all traffic records for BadEagle.com, as shown in the Site Meter chart above. Founded in 2002, BadEagle's best year so far was 2008, when traffic averaged about 7,500 visits per month. After our redesign went live on January 14, traffic soared to more than 12,000 visits for January 2009 — exceeding the 2008 monthly average by nearly 40 percent, and beating the previous record month (October, 2008) by nearly 20 percent.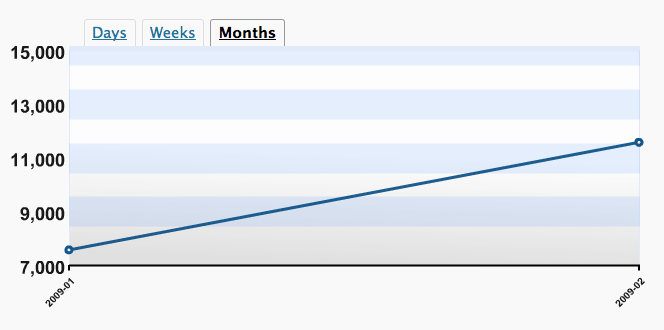 We still have another week left in February, so monthly totals aren't in yet, but BadEagle.com is on track for a second big month in a row. Average page views for 2009 are heading steadily skyward, as shown in the WordPress Stats chart above.


The New BadEagle.com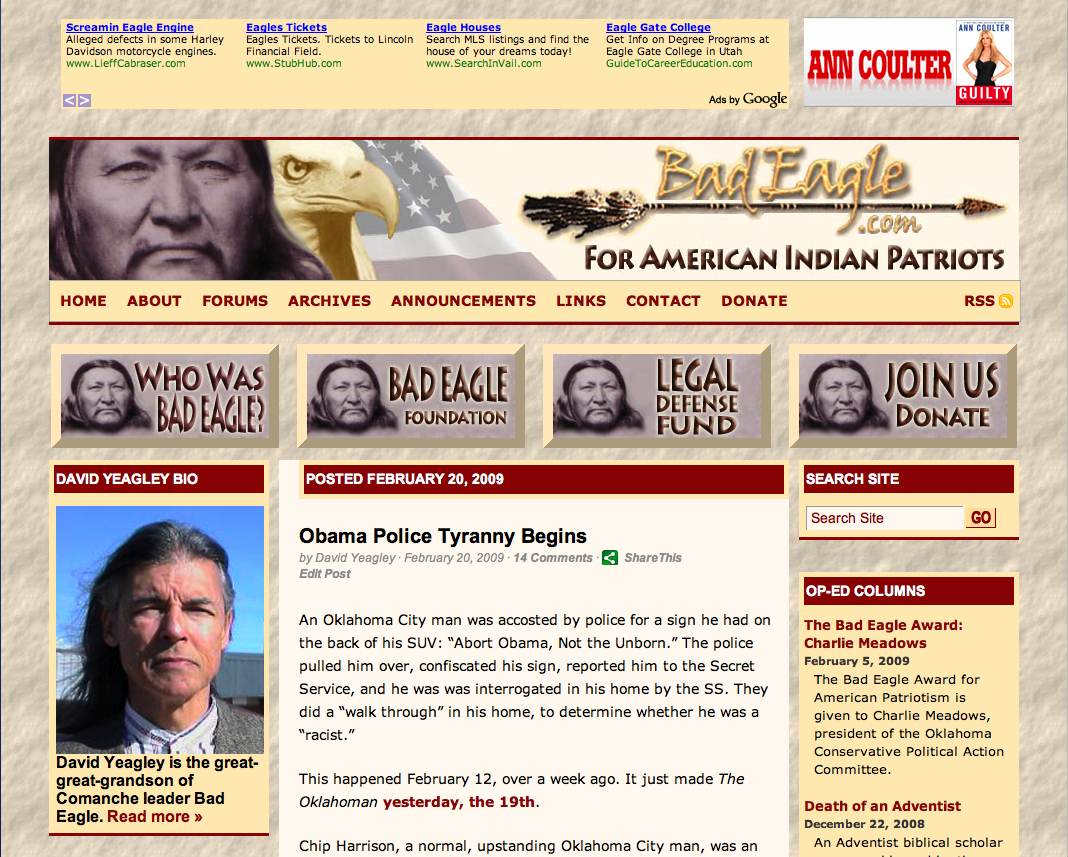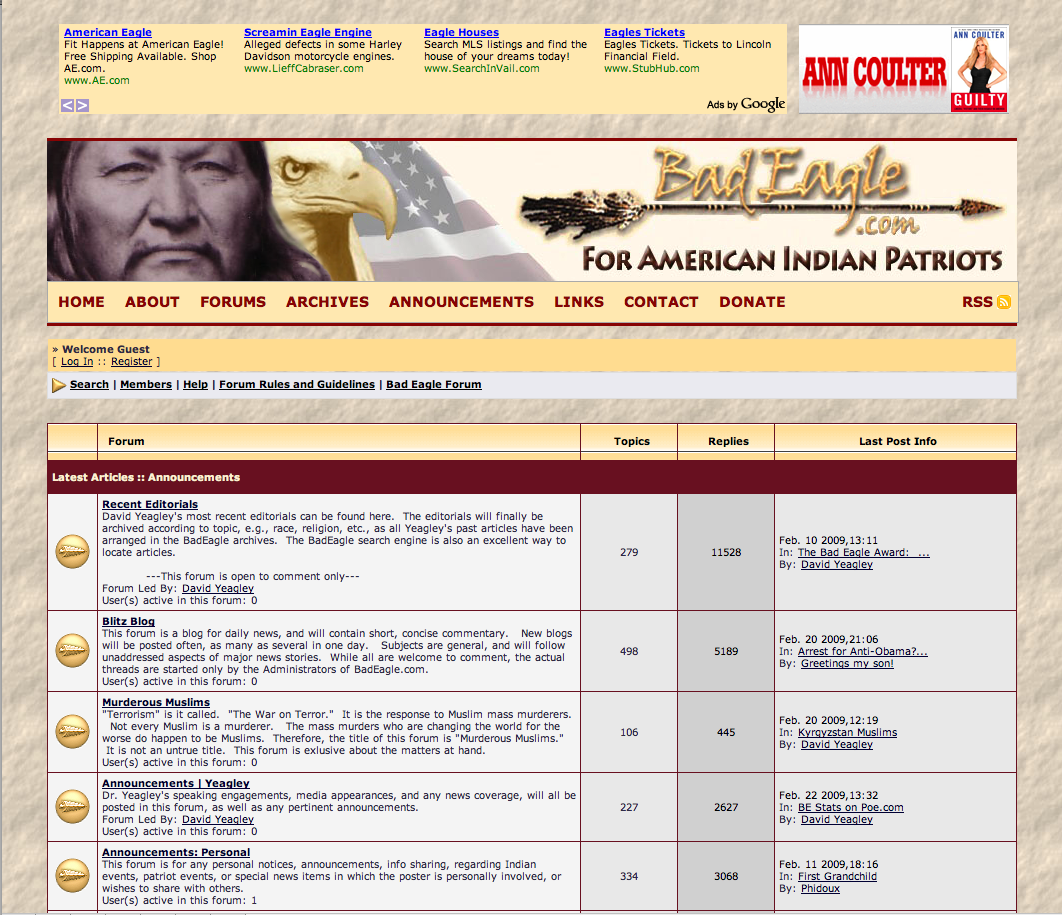 The new BadEagle.com, launched January 14, 2009, features a WordPress 2.7 blog adapted from Chris Pearson's famous Cutline theme. I created a new masthead to replace Ken Vaughn's original 2002 design, but retained Mr. Vaughn's excellent Indian-arrow logo. Mr. Vaughn's elegant 2002 design of the Bad Eagle forum remains largely unchanged, though with the addition of a new masthead and navbar, and an upgrade to Ikonboard version 3.1.5.


Credits and Acknowledgments
Many people contributed to the success of the BadEagle redesign, most especially the BadEagle community itself, whose loyal readers and users donated generously to the project.
Special thanks go to programmer "Texas" Tom Allison, whose troubleshooting and technical interventions helped avert many disasters. Thanks also to FreeRepublic co-founder John Robinson; Oleg Atbashian, owner and founder of The People's Cube; original BadEagle designer Ken Vaughn; Ikonboard co-creator Joshua Johnson and all the good folks at Level 6 Studios, for technical advice and assistance at critical moments.
I offer profound gratitude to Dr. David Yeagley, owner and founder of BadEagle.com, for entrusting me with this fascinating project.
Of course, my deepest thanks go to my wife Marie, who sacrificed much, and whose love, support, patience and understanding never wavered while I tinkered with BadEagle.com, month after agonizing month, to the neglect of more practical concerns.