David Yeagley, 1951-2014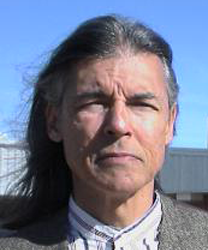 MY FRIEND David Yeagley has left us. He passed from this earth on Tuesday morning, March 11, 2014, at the age of 62. He will be sorely missed.
David was a brave man. All his life, he struggled against deadly illness. When it finally claimed him, he faced his enemy with calmness and courage.
He was a man of great faith and learning, the first Native American to receive a Master of Divinity degree from Yale University. No matter the topic, he was always ready with an apt quotation from the King James Bible.
I once called him an "American Indian Leonardo da Vinci," and so he was. An author, scholar, poet, novelist, pundit, portrait artist, concert pianist and classical composer, David earned advanced degrees from several universities, including a Doctorate of Musical Arts from the University of Arizona. He composed a grand opera about the Jewish Holocaust, and was the first American Indian to compose a feature-length movie score for theatrical release, for the film Daughter of Dawn.


I once called him an "American Indian Leonardo da Vinci,"
and so he was.
David loved his country. He loved the Lord. He loved his family. He loved his Comanche people. And he was always good company.
We disagreed on many things, but never on the big issues, such as friendship, honor, loyalty, and sincerity. Right or wrong, David always spoke his mind. His honesty shone like the noonday sun.
This world is a poorer place without him. It is certainly a lonelier place for me.
May God rest his soul, and bring comfort to his kin.


Related Articles


Joseph Cotto, "An American Patriot Has Died: Dr. David A. Yeagley (1951-2014)," Communities Digital News, March 18, 2014
"Yeagley in Washington Times: The Final Interview," BadEagle.com, July 16, 2012
Allan Wall, "Memo from Middle America: My Time With David Yeagley — Comanche Warrior, American Patriot," VDare.com, March 20, 2014
James Fulford, "David Yeagley, R.I.P.," VDare.com, March 14, 2014
Jared Taylor, "Good Bye, Older Brother," American Renaissance, March 14, 2014