PERFECT FEAR: Preface
by David A. Yeagley
Reprinted from Perfect Fear (released by Heraklid Books, July 5, 2012)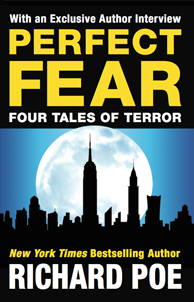 A TASTE for the weird and horrible cannot be cultivated overnight. It takes years of practice and a certain morbid predisposition. Richard Poe clearly has both. And I mean that as a compliment!
When Richard first sent me the stories in Perfect Fear, I did not know what to expect. In the twelve years I have known him, Richard has always been a journalist and a writer of non-fiction books. He was also my editor at FrontPage Magazine, David Horowitz's popular webzine. There, Richard used to pore over my copy with the diligence of a rabbinical scribe. He devoted long hours of his busy days to instructing me in the craft of op-ed writing. With endless patience, Richard weaned me from my academic style, teaching me to write for a mass audience. I developed great respect for his skills as a teacher and editor, and often marveled at his knowledge of exotic subjects. But there was a side of Richard that I never fully appreciated until now, and that is the side he unveils in his new book, Perfect Fear. The stories in Perfect Fear display gifts of creativity and imagination which never found a proper expression in Richard's non-fiction writing. More to the point, they reveal a fascination with things frightful, monstrous and appalling — a very special "gift" indeed, which Richard manifests in surprising abundance.
Plainly, my friend Richard has been drinking from Stygian waters for a very long time, but doing it on the sly, concealing his guilty pleasure from the world. He has imbibed very deeply of that brackish tide. The stories in Perfect Fear reveal a longstanding intimacy with the literature of the macabre, with its peculiar conventions and twisted humor. Perfect Fear is not the work of a dabbler, but of a lifelong and passionate connoisseur.
Richard's sudden emergence as a horror writer will inevitably arouse speculations about his surname. Some will wonder about the possibility of a family connection between Richard and his illustrious namesake Edgar Allan Poe. Richard assures me that no such connection is possible. His grandfather was a Russian Jew, born Rafail Aronovich Pogrebissky, who adopted the name Poe only in 1939. Still, there are other sorts of kinships, beyond the genetic. I sense an eerie affinity between these two Poes, very evident in their writing.

American Gothic
When I speak of an affinity, I do not mean to suggest that Richard attempts, in any way, to emulate the luxuriant prose of Edgar Allan Poe. He does not. Richard's style is lean and modern, as quick-paced as a Hollywood thriller. Yet the brooding atmosphere of Richard's stories and the ghastly obsessions of his characters unmistakably evoke the mood and flavor of nineteenth-century American Gothic literature, and of its undisputed master Edgar Allan Poe. Richard is thus a kind of literary conjurer. He has resurrected the spirit of American Gothic, but reincarnated that spirit in a new body. Perfect Fear is classic horror, recreated for the 21st-century.
The Gothic sensibility is most evident in "Scotophobia," the first story in this collection, and my personal favorite. The narrator informs us that "scotophobia" means fear of darkness, and there is plenty to fear in the gloomy netherworld beneath Manhattan, where most of the action takes place. In the spirit of the nineteenth-century Gothic masters, Richard leads us into a world of darkness, a realm of dank decay, of hideous insects, mysterious holes in walls, descending staircases and deep, dark tunnels. All the trappings of Gothic fiction are there, yet the story takes place in modern times, in New York City, in the full blaze of electricity, subways and Korean-run minimarts.
I don't wish to spoil anyone's fun by revealing too much of the plot. Indeed, anyone who hasn't read the story should probably stop now and read "Scotophobia" before proceeding further down this page. But there is one surprise in "Scotophobia" that so delighted me, I cannot help commenting on it. This is Richard's use of American Indian folklore.

Indian Ghosts
The hero of "Scotophobia" is an archaeologist, Frank Romain. He descends an enchanted staircase deep into the earth, in a journey that resembles or mimics an archaeological exploration. The deeper he descends, the further he regresses back through time, meeting worse and worse horrors at each level. Finally he hits bottom, where he encounters the ultimate horror. And what is it? My hat goes off to Richard Poe for understanding exactly what sort of abomination must lie in the deepest depths of that underworld beneath Manhattan. It is a horror drawn from American Indian legend. An Indian ghost. The ghost of the American Indian! When I first read that part of the story, it was a completely unexpected breath stopper, not because Richard got it wrong, but because he got it so unexpectedly right.
Frank Romain's journey is a descent through American history. Such a journey can only lead to the Indian. Richard understands, as few other writers do, that the Indian owns horror in America. "Scotophobia" is really about the fear that comes from living on haunted land. It is precisely this fear that marks "Scotophobia" as quintessentially American Gothic. The Gothic writers of early America understood clearly that the land they inhabited had been taken from someone else. In the days when Nathaniel Hawthorne and Edgar Allan Poe were writing, the land-grab was still in progress. Indian wars were the hot news of the day. The frontier was fresh and alive for these Gothic writers, a dismal realm looming beyond the reach of Christendom, where the physical terror of Indian raids mingled with the dread of Indian witchcraft and heathenism.
Ever the literary conjurer, Richard has rekindled the fire under that old cauldron of fears. He reminds us that the construction crews who buried Manhattan in concrete never succeeded in eradicating America's original frontier. They simply pushed the frontier underground, where it lies buried beneath the pavement to this day. In "Scotophobia," Richard brings us the unwelcome news that the modern city is a crypt, and the spirits who sleep there do not sleep quietly.

Sacred Horror
Of the many similarities I have observed between the two Poes, their eccentric spirituality bonds them most closely. I have spent thirty-five years studying the lively interaction between religion and horror in Edgar Allan Poe, and I find the same exotic blend in Richard's writings. For the two Poes, the horrific element cannot be separated from religion, nor can religion be separated from horror.
Perhaps I am predisposed to appreciate this paradox. It was one of my ancestors, the Comanche prophet Ishatai, who attempted to introduce the sun dance to the Comanches in 1874. The experiment failed. The pragmatic Comanches saw no value in the gruesome self-tortures and self-mutilations which distinguish the sun dance among the Cheyenne, the Sioux and other Plains tribes. Nonetheless, Ishatai's wayward thinking is in my blood. When I became the first American Indian to earn a Master of Divinity degree from Yale University, Ishatai's unsettling legacy cast a long shadow over my studies.
In a homiletics class at Yale, I was once assigned to write a sermon for Halloween (other students had already taken the "good" holidays, like Easter and Christmas). My sermon on "The Horror of Christ" caused a certain unease among my professors and classmates, but my thesis was unimpeachably Biblical. If the Lord viewed horror as intrinsically unwholesome (as some of our more puritanical brethren might contend), why, then, did he give us a Bible so manifestly packed with horrors, including the gruesome death of Jesus himself on the cross? Surely, I argued, there must be some legitimate role, in God's kingdom, for the grim, the ghastly and the macabre. This should not be taken as a blanket endorsement of the horror industry's every offering. Horror can be abused and overdone, like anything else. Yet I insist that horror, in the right hands, can be a tool of spiritual instruction. Engendering a fear of evil is a necessary step toward instilling a proper fear of the Lord.
I can certainly testify that, in my own life, horror tends to awaken faith. While I was undergoing chemotherapy for cancer in 1991, some dear friends of mine, a married couple from my Adventist church, took me into their home to look after me. One day, my hostess found me watching my video of Bela Lugosi's Dracula. "Why are you watching this?" she exclaimed, evincing the traditional Adventist repugnance for horror entertainment. "It makes me feel religious," I explained. This was the plain truth. Throughout that agonizing period of my life, horrific films and literature helped rivet my attention on the spiritual and eternal, in tandem, of course, with my usual, avid study of Scripture.

Good Fear, Bad Fear
The two Poes, Richard and Edgar Allan, both seem to agree that the work of the horrorist is, in some sense, God's work. Both approach their task with a conscientiousness bordering on reverence. Edgar Allan often shocked respectable churchgoers with his flippant remarks on religion. Yet, he had an unshakable faith in Biblical prophecy, and a particular fascination with those revelations concerning the end of the world. Edgar Allan's belief in Biblical prophecy is not widely acknowledged by literary scholars, yet a careful study of his writings yields copious and incontrovertible proof that he held such beliefs, as documented in my book The End of the World in Poe. Edgar Allan Poe was an intuitive believer, a searcher. Richard Poe seems to hold more definite and systematic views on religion, in keeping with his Catholic faith. But, notwithstanding their doctrinal differences, both of these Poes show a proper awe and humility before that wild and ungovernable force which Richard calls "perfect fear."
"The fear of the Lord is the beginning of wisdom," said King David (Psalm 111:10). The first man, Adam, displayed precisely such a fear after eating of the forbidden fruit. The Lord asked him, "Adam, where art thou?" His agonizing reply was, "I was afraid… and I hid myself." (Genesis 3: 9, 10.) Fear is intimately associated with God. That one should be scared into seeking a restoration of divine favor is actually the basis of all religion. It would follow, then, that the conscious manipulation of fear, through art, is an act highly charged with spiritual purpose.
Of course, fear can be used for good or evil. I believe the two Poes try to use it for good. Edgar Allan did so intuitively. Richard seems to attempt it in a more deliberate way. Perfect Fear represents an intensely conscious organization of the elements of anxiety and dread, an attempt to elucidate how fear is created, and how it might be transcended, in four different ways, through the four stories in this book. The stories are thrilling and entertaining, as they should be. But there is something in them beyond entertainment, a quality which I find in Richard's stories and Edgar Allan's alike, something ineffable and transcendent, mysterious and exalted, something which partakes, however dimly, of the divine.
David Yeagley
Oklahoma City, Oklahoma
June, 2012
________________________________________________
David Yeagley has been called "an American Indian Leonardo da Vinci." He is an author, scholar, poet, literary critic, classical composer, concert musician, portrait artist and political commentator. Yeagley founded and runs the Bad Eagle Foundation, which promotes American Indian development. He is also founder and editor of the popular blog BadEagle.com. An enrolled member of the Comanche tribe, Yeagley was the first American Indian to receive a Masters of Divinity degree from Yale University. He was commissioned by the Oklahoma Historical Society to write an eighty-minute symphonic score for the recently-restored silent film Daughter of Dawn, a 1920 epic filmed in Oklahoma, which features all Indian actors. Daughter of Dawn premiered with its new score on June 10, 2012 at the deadCenter Film Festival in Oklahoma City. Yeagley's published books include The End of the World in Poe and Altered States. He lives in Oklahoma City, Oklahoma.

Reprinted from Perfect Fear (released by Heraklid Books, July 5, 2012)