Bloggers Take Democrat Bribes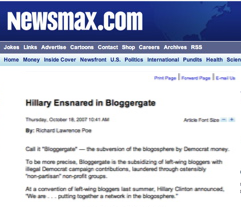 BLOGGERGATE: A 7-Part Series
Hillary, Soros and the Blog-for-Pay Scandal that Never Made the News
Bloggers Take Democrat Bribes, October 10, 2003
BLOGGERGATE: Unfolding Scandal or False Alarm?, October 12, 2003

BLOGGERGATE: Media Matters Implicated in Blogger Payoffs, October 10, 2006
The Hillary-Soros Axis, October 5, 2007
BLOGGERGATE: Hillary Leads Army of Paid Bloggers, October 11, 2007
Hillary's Paid Bloggers, October 22, 2007

Hillary Planned Bloggergate in 1995, October 29, 2007
---
Democratic presidential hopeful Howard Dean has been — and I quote — "paying `bloggers' or professional Internet surfers to keep the enthusiasm up on his website," according to The Hill, a newspaper which reports on the U.S. Congress. The shocking revelation appeared in an October 8 article titled, "Dem Presidential Rivals Suffer `Growth Pains' Chasing Dean."
James Taranto of the Wall Street Journal's online Best of the Web page comments:
We're all for free enterprise, but this does point up an advantage of "old media" over bloggers. Professional journalists may have their biases, but those of us who work for big-media outfits are bound by codes of ethics under which taking money in exchange for favorable coverage would be a huge no-no. Many bloggers, of course, genuinely are independent commentators, but there's no easy way of knowing which ones are on the take.
Taranto displays a somewhat rosier view of Big Media ethics than the facts seem to warrant, but he is nonetheless to be congratulated for spotting this damning report of Dean's blog payoffs, which The Hill's editors cunningly buried deep in the 20th paragraph of a 25-graph article topped by a deadly dull headline.
Freeper comments here.
UPDATE 10.13.03:
Bloggergate: Unfolding Scandal or False Alarm?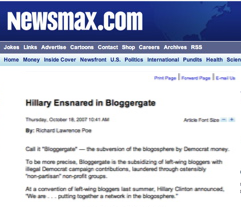 BLOGGERGATE: A 7-Part Series
Hillary, Soros and the Blog-for-Pay Scandal that Never Made the News
Bloggers Take Democrat Bribes, October 10, 2003
BLOGGERGATE: Unfolding Scandal or False Alarm?, October 12, 2003

BLOGGERGATE: Media Matters Implicated in Blogger Payoffs, October 10, 2006
The Hillary-Soros Axis, October 5, 2007
BLOGGERGATE: Hillary Leads Army of Paid Bloggers, October 11, 2007
Hillary's Paid Bloggers, October 22, 2007

Hillary Planned Bloggergate in 1995, October 29, 2007