Hillary's Paid Bloggers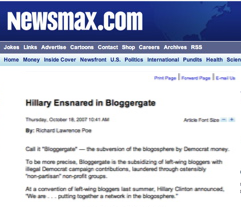 BLOGGERGATE: A 7-Part Series
Hillary, Soros and the Blog-for-Pay Scandal that Never Made the News
Bloggers Take Democrat Bribes, October 10, 2003
BLOGGERGATE: Unfolding Scandal or False Alarm?, October 12, 2003

BLOGGERGATE: Media Matters Implicated in Blogger Payoffs, October 10, 2006
The Hillary-Soros Axis, October 5, 2007
BLOGGERGATE: Hillary Leads Army of Paid Bloggers, October 11, 2007
Hillary's Paid Bloggers, October 22, 2007

Hillary Planned Bloggergate in 1995, October 29, 2007
---
CALL IT Bloggergate — the subversion of the blogosphere by Democrat money.
Six years ago, most bloggers leaned right-of-center politically. Then something happened. The blogosphere made a sudden, screeching, 180-degree swerve to the left.
What caused this upheaval? For years, we could only speculate. Now, at last, we have caught a glimmer of the truth. It is not a pretty picture.
"We are . . . putting together a network in the blogosphere," Senator Hillary Clinton announced on August 4, 2007 at the YearlyKos Convention, a gathering of leftwing bloggers in Chicago.
Her remarks became public two months later, on Oct. 2, when an anonymous person posted a shaky, hand-held videotape of her speech on YouTube.
In the video, Hillary takes credit for the rapid proliferation of leftwing blogs, which she attributes to the work of "institutions that I helped to start and support like Media Matters and Center for American Progress […]."
The two groups Hillary mentions are 501(c)3 tax-exempt organizations, forbidden by law from coordinating their efforts with political candidates. If indeed Hillary — helped to start and support — these groups, plotting with them to subsidize political bloggers, Hillary and both groups would be guilty of a federal crime.
The Bloggergate scandal first emerged in January 2005 when leftwing bloggers Jerome "The Blogfather" Armstrong of MyDD and DailyKos founder Markos Moulitsas Zuñiga admitted to getting cash from Howard Dean's presidential campaign.
Bloggergate heated up in October 2006, when Republican blogger Michael Brodkorb of Minnesota discovered that many leftwing bloggers in his state were getting cash "fellowships" from an outfit called the Center for Independent Media (CIM).
Brodkorb learned that CIM worked from an office in Washington, DC owned by Media Matters for America.
My co-author David Horowitz and I described the close relationship between Media Matters and Hillary Clinton in our book The Shadow Party: How George Soros, Hillary Clinton and Sixties Radicals Siezed Control of the Democratic Party.
We noted that Media Matters was launched by the Center for American Progress (CAP), an organization described by the leftist journal The Nation as "a shadow government, a kind of Clinton White-House-in-exile — or a White House staff in readiness for President Hillary Clinton."
CAP was founded in July 2003 by billionaire Democrat donor George Soros, working closely with Morton Halperin, director of U.S. advocacy for Soros' Open Society Institute. To run their Center, they appointed John Podesta — former Clinton White House Chief of Staff. To help organize it, they recruited Harold Ickes, former Deputy Chief of Staff for the Clinton White House.
The Center launched Media Matters in May 2004, touting the group as a watchdog for conservative bias in the media. Its founding president was David Brock, a former conservative journalist turned leftist.
The New York Times of May 3, 2004 noted that Media Matters was formed "with help" from the Center for American Progress; that CAP had "loaned office space" to Brock; and that CAP president Podesta had "introduced [Brock] to potential donors."
"Mr. Brock . . . has also spoken with Senator Clinton, Senator Tom Daschle of South Dakota and former vice president Al Gore about his project," The Times reported.
No sooner had Media Matters opened for business, than Brock began pressuring Congress to ban Rush Limbaugh from American Forces Radio and Television Service — an effort which continues to this day.
Much as CAP spawned Media Matters, Media Matters in turn spawned the Center for Independent Media (CIM), in April 2006.
CIM co-founders David S. Bennahum and Alexandra Savino are both Media Matters alumni. Mr. Bennahum helped found Media Matters, serving as one of its original senior fellows. Miss Savino worked for Media Matters as a blogosphere analyst.
CIM recruits, trains, directs and finances an army of leftwing bloggers through its "New Journalist" program. The program application offers bloggers a three-month, renewable fellowship which includes "a stipend of $4,500 to be paid over three months," "editorial mentorship from experts in the field of blogging and/or journalism," access to expensive databases such as LexisNexis, as well as free legal advice, training, and technical support.
On its NewJournalist.org Web site, CIM claims to run a "fast-growing network of 40 journalists." It lists 34 of its "fellows" by name.
Those of us who spent the last six years watching bemused as the blogosphere swung left have at last gained some insight into how this mysterious process unfolded.
Now the IRS and the FEC must act upon that insight and purge the blogosphere of dirty Democrat money.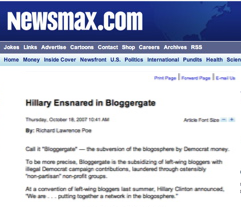 BLOGGERGATE: A 7-Part Series
Hillary, Soros and the Blog-for-Pay Scandal that Never Made the News
Bloggers Take Democrat Bribes, October 10, 2003
BLOGGERGATE: Unfolding Scandal or False Alarm?, October 12, 2003

BLOGGERGATE: Media Matters Implicated in Blogger Payoffs, October 10, 2006
The Hillary-Soros Axis, October 5, 2007
BLOGGERGATE: Hillary Leads Army of Paid Bloggers, October 11, 2007
Hillary's Paid Bloggers, October 22, 2007

Hillary Planned Bloggergate in 1995, October 29, 2007