Democrat Digital Brownshirts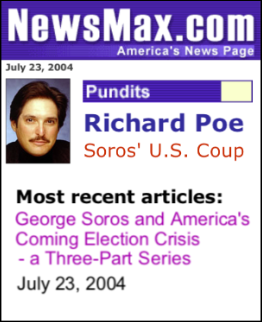 GEORGE SOROS AND AMERICA'S COMING ELECTION CRISIS
A Three-Part Investigative Series
by Richard Poe
Introduction
July 16, 2004
Velvet Revolution, USA
July 16, 2004
The Democrats' Digital Brownshirts
July 17, 2004
The Lies of George Soros
July 18, 2004
---
NOTE: The 7-step formula for regime change outlined in "Velvet Revolution, USA," later became the basis for the 5-step formula used by Glenn Beck in his landmark exposé "The Puppet Master George Soros," aired on Fox News, November 9, 10, 11, 2010.


THE DEMOCRATS' DIGITAL BROWNSHIRTS
George Soros and America's Coming Election Crisis: A Three-Part Series
by Richard Poe
RichardPoe.com
July 17, 2004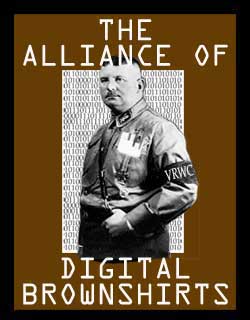 "AL GORE IS INSANE… [He] desperately needs help," wrote John Podhoretz in the New York Post, following the former Vice President"s May 26 speech at a MoveOn.org rally.
Many pundits have drawn similar conclusions about the "new" Al Gore who emerged that day screaming, sweating and gesticulating like Benito Mussolini on methamphetamine.
Lacking credentials in the practice of psychiatry, I have tried to avoid speculating on Mr. Gore's mental soundness. Even so, his address at Georgetown University on June 24 cries out for diagnosis.
Among other things, Gore said, "The [Bush] administration works closely with a network of rapid responders, a group of digital brownshirts who work to pressure reporters and their editors and publishers and advertisers, and are quick to accuse them of undermining support for our troops."
Rapid responders? Digital brownshirts? What in blazes was Gore talking about?
Gore's rant against "digital brownshirts" must surely rank as one of the most extreme manifestations of "projection" ever to present itself to the scrutiny of medical science. As Gore is well aware — or at least as he should be aware, in his more lucid moments — it is the Democrats, not the Republicans, who pay Internet propagandists to lie, defame, dissemble and otherwise corrupt political discourse in America.
In the last two years, money from George Soros has ushered in a veritable Golden Age for Web-based mischief, much of it perpetrated through such high-profile sites as MoveOn.org and Indymedia.org. But if such a thing as a digital brownshirt movement truly exists, its seeds surely took root in the Clinton White House as early as the summer of 1995.
Senator Alfonse D'Amato's Whitewater committee was then investigating charges that Hillary Clinton had illegally ordered some of Vincent Foster's papers removed from his office after the Deputy White House Counsel's sudden death. There was talk of hauling Hillary before the D'Amato committee for questioning.
No doubt adding to the First Lady's worries, House Speaker Newt Gingrich told reporters on July 25, 1995, "There is plausible reason to question whether or not [Foster's death] was suicide."
According to White House insiders, the threat of further probes into Foster's death prompted Hillary, in July 1995, to order the White House Counsel"s office to produce a secret report called The Communication Stream of Conspiracy Commerce. Hillary's report charged that a vast rightwing conspiracy financed by Pittsburgh newspaper mogul Richard Mellon Scaife had provoked unwarranted speculation on Foster's death. The Internet provided a dangerously "unregulated" conduit for Scaife's conspiracy theories, charged the report.
Circulated privately among Clinton-friendly journalists, Hillary's conspiracy report inspired a rash of hit pieces in the press, demonizing Scaife. The barrage of anti-Scaife propaganda found fertile soil in the mind of Internet pornographer and former Army intelligence specialist Steven R. Kangas.
If anyone deserves the title of "digital brownshirt," Kangas surely lurks near the top of the list. As recounted in my book Hillary's Secret War, Kangas's Web activism had made him a minor celebrity on the left. The Robert F. Kennedy Democrats honored Kangas's "Liberalism Resurgent" home page with their 1997 "Excelsior Award" for Web sites that "communicate the highest progressive ideals."
Kangas's site railed against Scaife in words eerily reminiscent of Hillary's 1995 conspiracy report.
On February 8, 1999, Kangas took action. He arrived in Pittsburgh on a Greyhound bus, with only $14.63 in his pocket. Carrying a Kel-Tek 9-mm semiautomatic pistol, forty-seven rounds of ammunition and a bottle of Jack Daniels, Kangas made a bee-line for Scaife's office, on the 39th floor of a downtown high-rise.
Kangas was seen peering into Scaife's outer office through the glass, but he did not enter. Instead, Kangas holed up in a restroom down the hall, got drunk and shot himself in the head. If indeed Kangas intended to assassinate Scaife, he appears to have lost his nerve at the last minute.
The Democrat "digital brownshirt" movement has come a long way since Kangas"s wildcatting days. Today, the movement is well-funded and tightly disciplined. Its headquarters is the Center for American Progress (CAP), a far-left think tank launched in July 2003. Headed by former Clinton Chief of Staff John Podesta and funded with $3 million from George Soros, CAP serves as the premier platform for Hillary Clinton"s political activism.
One of CAP's missions, according to its charter, is to run "rapid response" media campaigns, for the purpose of debunking and discrediting troublesome press reports. In this respect, CAP's mission echoes that of the so-called "War Room" which Hillary first operated during the 1992 presidential campaign. According to the Washington Post:
"The war room was set up to gather as much intelligence as possible and quickly turn it to Clinton's advantage. Campaign advisors tried to anticipate what stories reporters were working on in hopes of shaping those stories before they were written."
Critical to the War Room"s success was James Carville's so-called "rapid-response team" — an elite band of spinmeisters who prided themselves on their ability to intercept a Clinton scandal report at midnight and turn it around to Clinton's advantage by 7 am the next morning.
In view of these facts, Al Gore's use of the term "rapid responder" becomes less mysterious. The term has evidently enjoyed a certain cachet among Clinton insiders for years. From the beginning, however, it has been the Democrats, not the Republicans, who have honed "rapid-response" media operations to a science.
On May 3, 2004, CAP launched a new Web site, MediaMatters.org, which specializes in "rapid-response" work. Funded with $2 million from Democrat donors, Media Matters set to work cranking out daily reports that attack with robotic monotony virtually every conservative utterance that finds its way onto the air waves as a "lie" a "smear," a "slander" or a "factual error."
Among its pet projects, Media Matters has been pressuring Defense Secretary Donald Rumsfeld to ban Rush Limbaugh from American Forces Radio and Television Service — thus depriving our troops in Iraq of the single radio program they are allowed to hear that actually supports them and the cause for which they fight.
In the interest of full disclosure, I should also mention that Media Matters is leaning rather heavily on Bill O"Reilly to grant its president, David Brock, equal airtime to rebut allegations leveled at George Soros by — believe it or not — little ol' me!
All of this would be grounds for amusement if these "digital brownshirts" worked in a vacuum. But they do not. Thanks to George Soros, they enjoy an extra-constitutional power above and beyond their stature.
For the first time in living memory, we are heading into an election where political speech will be monitored, curbed and potentially even prosecuted under federal law. Groups such as CAP and its offshoot Media Matters have thus gained the power to play informer, bringing to the authorities' attention any political speech they find offensive and which may prove punishable under the McCain-Feingold Act.
In the third and final installment of this series, we will examine how George Soros succeeded, almost singlehandedly, in bringing to an end 228 years of free speech in these United States. Without shedding so much as a drop of American blood, Soros has managed to undo the work of Lexington and Concord. And few Americans even noticed.
Free Republic comments 07/17/2004 11:03:05 PM ET
Cross-posted from RichardPoe.com 07.17.04
---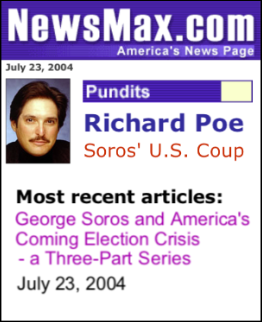 GEORGE SOROS AND AMERICA'S COMING ELECTION CRISIS
A Three-Part Investigative Series
by Richard Poe
Introduction
July 16, 2004
Velvet Revolution, USA
July 16, 2004
The Democrats' Digital Brownshirts
July 17, 2004
The Lies of George Soros
July 18, 2004
---
NOTE: The 7-step formula for regime change outlined in "Velvet Revolution, USA," later became the basis for the 5-step formula used by Glenn Beck in his landmark exposé "The Puppet Master George Soros," aired on Fox News, November 9, 10, 11, 2010.