DEMOCRAT-COMMUNIST COALITION SEEKS BUSH IMPEACHMENT
Yesterday's Anti-Bush Putsch by Senate Democrats May Have Been Coordinated with Today's Nationwide Anti-Bush Street Mobilization Organized by Revolutionary Communist Party (RCP)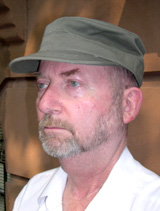 Charles Clark Kissinger of the Revolutionary Communist Party (RCP): planned today's protests
In the last 24 hours, a veritable anti-Bush coup has erupted.
Two groups – Democrat leaders in the Senate and a network of hard-left street activists coordinated by the Revolutionary Communist Party (RCP) – have launched separate but parallel offensives, both aimed at driving President Bush from office. We at Moonbat Central suspect coordination between the two groups.
Senate Democrats yesterday demanded a new investigation of the Iraq war. Invoking the rarely-used "Rule 21" – generally reserved for impeachment proceedings, national security emergencies and the like – Democrat leaders forced the Senate into secret, closed session to confront what they charged was a White House cover-up. (1)
Simultaneously, leaders of the Revolutionary Communist Party (RCP) were busy finalizing preparations for a nationwide day of protest scheduled to begin this morning.
"Nov. 2 – The Beginning of the End of the Bush Regime", trumpets a headline at WorldCantWait.net, an RCP front group. RCP has organized massive walkouts of employees and students throughout the country today, along with marches in major cities.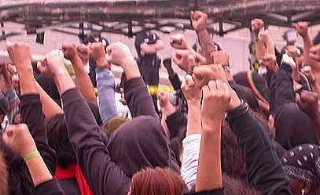 "RESIST OR DIE": University of Wisconsin students rally in advance of November 2 mobilization to drive out Bush.
Now here's the rub. We know that yesterday's disturbance in the Senate was planned as early as November, 2003, thanks to a memo leaked from Senator Jay Rockefeller's office. (2) We also know that the Revolutionary Communist Party began organizing its November 2 mobilization around June of this year. (3)
Given the careful planning underlying these initiatives, we are compelled to consider the possibility that Senate Democrats coordinated their efforts with RCP organizers.
If so, we are seeing the emergence today of an overt coalition between Democrats and communists, both of whom seek President Bush's impeachment.
Democrat Congressman Maurice Hinchey of New York –Â a notoriously loose-lipped Hillary Clinton operative – spilled the beans on the Democrat plan at a July 30 Town Hall meeting in Ithaca, New York. Citing the Downing Street memos and the Plamegate controversy as evidence of Bush's perfidy, Hinchey declared, "My greatest hope is that all of these things will be revealed, they will be revealed in a very direct and legal context, and that in 2006 a Democratic majority will be elected to the House of Representatives, and in February of 2006 [sic] impeachment proceedings will begin." (4)
by Richard Poe
November 2, 2005 12:50 PM ET
Cross-posted from MoonbatCentral.com 11.02.05 12:50 PM ET
---
NOTES
1. Ted Barrett, "Democrats Close Senate to Push War Probe", CNN.com, November 1, 2005
2. "Dems Close-Senate Playbook in 2003 Memo", WorldNetDaily.com, November 2, 2005; Richard Poe, "Rockefeller Implicated in Plot to Leak Secret War Intel", RichardPoe.com, November 6, 2003
3. Connie Julian, "Battle to Drive Out the Bush Regime Intensifies, 180 Actions Set for November 2nd", press release, WorldCantWait.org, October 31, 2005; Timeline: November 2 Mobilization", MoonbatCentral.com, November 2, 2005
4. Yuval Shavit, "Hinchey at Town Hall: Bush Using Scare Tactics", The Ithaca Journal Online, August 1, 2005; Richard Poe, "Bush Impeachment in the Works", MoonbatCentral.com, August 7, 2005