AUTHOR INTERVIEW: Mark W. Smith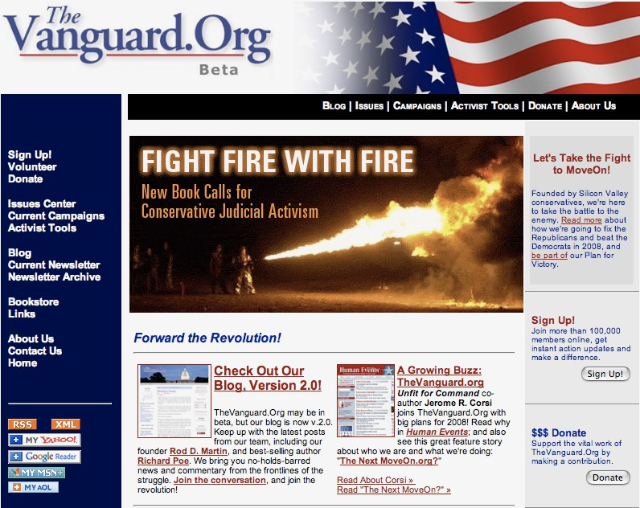 TheVanguard.org, Monday, April 2, 2007
An exclusive interview with author Mark W. Smith, and a review of his controversial new blockbuster, DISROBED: The New Battle Plan to Break the Left's Stranglehold on the Courts
by Richard Poe
Go here to read Richard Poe's review of Mark W. Smith's book DISROBED.


EXCLUSIVE INTERVIEW: Mark W. Smith
Author Tells How He Became a Legal Radical of the Right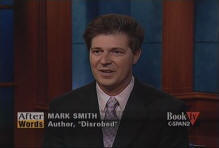 New York City litigator and activist Mark W. Smith: "I want the Left to fear us."
ANN COULTER has called Mark W. Smith "one of the fastest-rising legal stars in the country." Now Smith is putting his career on the line.
In his new book, Disrobed: The New Battle Plan to Break the Left's Stranglehold on the Courts, Smith breaks every taboo of the conservative legal elite. He exhorts conservatives to copy the tactics of the left, using lawsuits and judicial activism to take back the courts.
In an exclusive interview with Richard Poe, Smith recounts his transformation from mild-mannered, white-shoe litigator to fire-breathing radical of the right.
---
POE: It took guts to write this book. Have you gotten flack from fellow conservatives?
SMITH: Some conservatives have accused me of sinking to the level of the leftists. They tell me that two wrongs don't make a right. But a lot more have told me privately that they applaud what I'm doing, because they too are tired of losing in the courts.
POE: You seem an unlikely radical. Until now, you've followed the path of an insider's insider in the legal world.
SMITH: Yes, I followed the traditional path for elite, conservative litigators. Since graduating from New York University law school in 1995, I have served as Vice President of the New York City Federalist Society. Whitewater Prosecutor Kenneth Starr sponsored my admission to the Bar of the U.S. Supreme Court. I helped President Bush defend his selections of John Roberts and Samuel Alito to the Supreme Court, and I attended the swearing-in ceremony of Chief Justice Roberts at the White House.
POE: Now, at age 38, you risk everything by writing a manifesto calling for open ideological warfare in the courts. What made you do it?
SMITH: I spent a year after high school playing semi-pro baseball. From sports, I learned that you play to win. I approach litigation and politics from this same perspective.
In August 2000, I attended David Horowitz's Restoration Weekend. As a former Marxist leader of the Sixties who later moved to the right, Horowitz was saying that conservatives must adopt leftist tactics if we want to win. That made sense to me.
Four months later, we had the 2000 election fiasco. The passivity of Republicans astonished me. Here was Al Gore challenging the election in Florida. Meanwhile, the Democrats in Missouri ran a dead man against John Ashcroft for the Senate. The dead man won and his widow ended up taking his place in the Senate. Ashcroft was too polite to sue. When Gore sued in Florida, we should have sued in New Mexico, Wisconsin, Iowa and every other state where the count was close, but we didn't. I saw that Horowitz was right. In his book The Art of Political War, he writes, "if only one side is shooting, the other side will soon be dead." In 2000, the Left was shooting, but we weren't shooting back. That got me thinking.
POE: What effects do you hope to see from the publication of Disrobed?
SMITH: I want to encourage conservative judicial activism. We need to legislate from the bench. We need to sue to strike down gun control laws, economic regulations and the like. Every year at Christmas, Americans are terrified to put up a Christmas tree in a public park because they fear an ACLU-inspired lawsuit. In contrast, no liberal politician or loony liberal fears lawsuits by conservatives because we rarely start any. I want the Left to fear us.
And for those conservatives who disapprove of my plan, and who still think judicial restraint is the way to go, I would ask them, in the words of TV therapist Dr. Phil, "How's that been working for you?"


Go here to read Richard Poe's review of Mark W. Smith's book DISROBED.


This interview with Mark W. Smith was first published by TheVanguard.org on April 2, 2007.