TV: Glenn Beck Program
November 9, 2010 Tuesday 5:00 PM to 6:00 PM ET
Fox News, New York, NY
New York Times-bestselling author and investigative journalist Richard Poe will discuss covert regime-change operations undertaken by George Soros and his Open Society Institute in Yugoslavia and other countries — a topic covered in The Shadow Party, co-written by David Horowitz and Richard Poe. This is the first episode in a three-part series titled, "The Puppetmaster George Soros," airing November 9, 10 and 11.


UPDATE: December 14, 2010
The Puppetmaster George Soros (Nov. 9, 10, 11)


Glenn Beck features Shadow Party co-author Richard Poe, November 9-11, 2010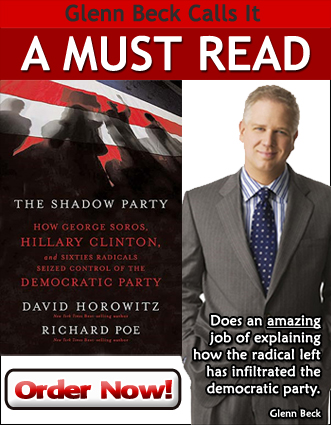 In a three-part series of investigative reports, talk show host Glenn Beck accused billionaire George Soros of using his global network of philanthropies as a front for covert operations. Beck accused Soros of overthrowing governments in several countries, through economic sabotage and disruption of elections. He charged that Soros is currently using the same techniques to destabilize the United States.
A record audience of nearly three million people tuned in to hear Beck's stunning charges on the first night, November 9, 2010. I made a guest appearance on the show that night.
Regular readers of this blog know that your faithful correspondent has been sounding the alarm for years about Mr. Soros's bloodless coups or "velvet revolutions," as they are sometimes called. I wrote about this subject in a May 2004 cover story in NewsMax Magazine and also in The Shadow Party, a New York Times bestseller which I co-wrote with David Horowitz in 2006. Mr. Beck kindly recommended The Shadow Party on his show, calling it a "must read."
Below are streaming videos of all three shows in the series. My interview appeared on the first night, in the second segment.
Glenn Beck: The Puppetmaster George Soros
November 9-11, 2010

Tuesday, November 9, 2010
Part I: The Puppet Master: How much does George Soros control?
Video (Fox News) | Video (GlennBeck.com) | Video (DailyBeck) | Transcript

Wednesday, November 10, 2010
Part II: The Five Step Plan: How George Soros is trying to bring down America
Video (Fox News) | Video (GlennBeck.com) | Video (DailyBeck) | Transcript

Thursday, November 11, 2010
Part III: Making of the Puppet Master: How George Soros became who he is today
Video (Fox News) | Video (GlennBeck.com) | Video (DailyBeck) | Transcript | Study Guide

Thursday, November 11, 2010
Soros's Role in Kenya Chaos (op-ed by Richard Poe, GlennBeck.com)